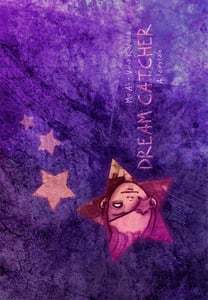 €

6.00
"A young girl, named 'Eboni Sky', chases an escaped nightmare.
They both fall from the sky one night like shooting stars; the nightmare is a human-shaped form of light, wily and dangerous and edges bleeding into our reality, jumping from mind to mind, causing havoc inside the head's of young children. Eboni, a Dreamcatcher, is in relentless pursuit, using objects and help from the children's heads in her hunt to stop the nightmare and send it back to its home on the dark side of the moon."
Story: Mo Ali / Art: Valia Kapadai
40 pages, full colour
Praise for "DreamCatcher":
"[DreamCatcher] Reads like the Beowulf poet time-travelled to the 21st century, mainlined some Freud and Dr. Seuss, and sat down to write a new epic."
Mike Carey (Lucifer, Hellblazer, X-Men, Crossing Midnight, The Unwritten)
---
"This somnambulistic fairy-tale
Is beautifully brought to life.
Mo and Valia's DREAMCATCHER
is a lush moonlit delight."
Lee Grice (www.smallpressbigmouth.blogspot.com)
---
"AWESOME-CREAM-TASTIC!"
Jennie Gyllblad (Clockwork Watch, Skal, Bayou Arcana)
---
"Miss Kapadai draws like a dream and colours like a dream, abilities that make her more than perfectly suited for this wisp of a story, a story that comes and goes as quickly and as logically as a dream. One of my favourite artists up-coming, she gives swirling, wonderful life to the streets of Bristol, where, I can assure you, there is none."
Reggie Chamberlain-King (www.thequietus.com / www.thestuffedowl.co.uk)
---
"DreamCatcher is what every fairytale should be...it's simply magical"
Row Bird (Heart of War)